Blessings to each of you in the new year! We are excited to reopen for daily mass and vespers. The side chapel and the bookstore will reopen as well.
Please visit our monastery if you are experiencing no Covid symptoms, fully vaccinated (including booster), and wear a mask at all times while you are inside the monastery.
The best consensus expert opinion about our current variant in this pandemic is: "We don't fully know." We are being extremely cautious but want to continue providing a dwelling place for spiritual reflection, silence, and awe.
We are pleased to offer St. Benedict's Monastery YouTube Channel.
Mass will be available, live, Sunday mornings at 8:15 A.M.
Every broadcast will be recorded and will be on YouTube after the Mass.
lessings to each of you in the new year!
Updated Mass (In-Person and Virtual)
For further updates, please check out our website: snowmassbookstore.com ✜
Discerning Our Future
……………………………………………...........................
THE MONKS OF ST. BENEDICT'S MONASTERY want to give our friends and all who are interested an update on our present situation. As you may know, our community has diminished significantly over the last ten years, a situation similar to many religious orders in the Church. Last year we decided not receive new candidates to our life. This enabled us to focus on living our monastic life at Snowmass while discerning our future among ourselves and with the leadership of the Trappist order in Rome.
We have reached a new moment in our discernment. Our Order has implemented its procedure to help fragile communities. This includes the appointment of an administrator. This administrator, also called a monastic commissary is Fr. Damian Carr, the former abbot of St. Joseph's Abbey in Spencer, Massachusetts, which founded St. Benedict's Monastery. I will assist him in a supportive role and will provide additional resources for the days ahead.
We ask your prayers at this new moment in the life of our community. We will post updates as our discernment continues. ✜
Fr. Charles Albanese, O.C.S.O.
St. Benedict's Monastery Bookstore
……………………………………………........................
.
WE HAVE A WIDE SELECTION of new books and gifts, including titles in monasticism, centering prayer, Ignatian spirituality, the Enneagram, spirituality and the contemplative life. The works of Fr. Thomas Keating are always in stock and available. In addition, a selection of fine art, icons, candles, and religious gift items, candies, Trappist Preserves, honey produced by the Monastery bees, and correspondence and greeting cards are available.
Can't come in? Our online bookstore is always open at www.snowmassbookstore.com, and items purchased can be sent directly to you. Your questions and suggestions are always welcome at our email address snowmassbookstore@gmail.com.
The Monastery bookstore is now open daily from 8:00 A.M. to 8:00 P.M.
Thank you for your continued support of our monastic mission and ministry! ✜
Thomas Merton's Snowmass
……………………………………………......................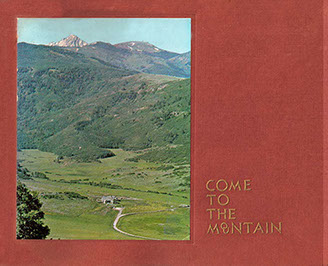 IN 1964, the superior of St. Benedict's Monastery, Joachim Viens, invited Fr. Thomas Merton of the Abbey of Gethsemani in Kentucky to create an information booklet for those interested in the monastic life. As Merton himself briefly described it, Come to the Mountain was "a meditation on monasticism in its twentieth century context," composed of five brief chapters focused on its essential qualities and observances.
After more than half a century, Merton's characteristically clear and concise description of monastic life speaks of the ideals, values and principles which it continues to offer today. "The monk is not so different after all," Merton writes, "and has a very definite role to play in the modern world."
Photographers Ferenc Berko and David Hiser provided the illustrations which accompany the text, and preserve a visible record of life at St. Benedict's Monastery. Although all of the monks who appear at work and prayer have since passed on into the kingdom of god whom they loved and served at St. Benedict's Monastery, their legacy continues to motivate and inspire those who follow them today. Read more. ✜