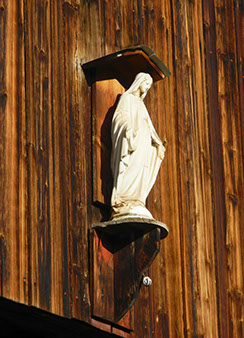 The Madonna of the corral
New Oblate Participation Program
We are pleased to offer St. Benedict's Monastery Sunday Mass at 8:15 A.M. via Zoom.
To join the Zoom meeting, please RSVP by emailing: stbenedictsmass2020@gmail.com and indicating that you would like to attend. We'll email you back with the link to the meeting. ✜
The monastery is surrounded
by the Maroon Bells-Snowmass Wilderness
which includes Mt. Sopris (12,953').
Thomas Merton's Snowmass
………………………………………………
In 1964, the superior of St. Benedict's Monastery, Joachim Viens, invited Fr. Thomas Merton of the Abbey of Gethsemani in Kentucky to create an information booklet for those interested in the monastic life. As Merton himself briefly described it, Come to the Mountain was "a meditation on monasticism in its twentieth century context," composed of five brief chapters focused on its essential qualities and observances.
After more than half a century, Merton's characteristically clear and concise description of monastic life speaks of the ideals, values and principles which it continues to offer today. "The monk is not so different after all," Merton writes, "and has a very definite role to play in the modern world."
Photographers Ferenc Berko and David Hiser provided the illustrations which accompany the text, and preserve a visible record of life at St. Benedict's Monastery. Although all of the monks who appear at work and prayer have since passed on into the kingdom of god whom they loved and served at St. Benedict's Monastery, their legacy continues to motivate and inspire those who follow them today. Read more.
Oblate Participation Program
………………………………………………................................................
Do you feel called to the monastic life?
St. Benedict's Monastery offers you two paths
to follow:
• A short-time commitment of not less than six months (subject to with-drawal or renewal by agreement with the Abbot) and lived as a member of the community as an oblate [Latin: "to offer oneself"] without vows but sharing fully in the daily life and prayer of the monks, OR…Read more.
• A life-time commitment lived in the community as a candidate for monastic profession beginning with the novitiate and moving through simple vows to solemn profession. If that is your interest, click on the website tab: Becoming a Monk. ✜
"If you are looking
for an oasis,
a place where you can quench your thirst
and steady your life,
St. Benedict's Monastery
in Snowmass, Colorado
is that place."
—Fr. Ron Rolheiser,
OMI | President
Oblate School of Theology