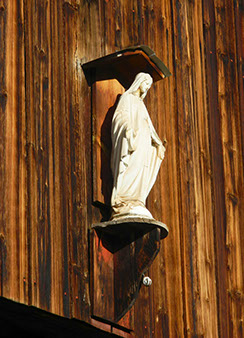 The Madonna of the corral
IF YOU ARE LOOKING FOR AN OASIS, a place where you can quench your thirst and steady your life, St. Benedict's Monastery in Snowmass, Colorado is that place.
You will find here a group of very unassuming monks, whose lives, through their writings and personal contact, have deeply touched many lives, including my own.
This is the place where I go to reground myself in faith and prayer, and to be fed, nurtured, and humored by a wonderful group of men who know the meaning of both spirituality and of friendship. ✜
—
Fr. Ron Rolheiser
, OMI
President
|
Oblate School of Theology
NEWS FROM SNOWMASS
Come and See!
From Monday, July 22 to Friday, July 26, 2019, St. Benedict's Monastery is offering the opportunity to share the unique experience of monastic life in the silence and solitude of the Rocky Mountains. The week is specifically oriented towards young Roman Catholic men ages 20-45 who are seriously discerning a vocation to the monastic life. Read more.
New Photovoltaic System
Under the direction
of Fr. Joseph Boyle, late Abbot of St. Benedict's, the new Photovoltaic System was conceived not only to reduce the cost for electrical energy to run the monastery operations, but in response to Pope Francis' encyclical on the environment to help reduce the impact of carbon emissions on the environment.
Holy Cross Energy estimates that the system installed at the monastery will prevent 486,000 lbs. of CO2 from entering the atmosphere. Read more.
✜
St. Benedict's Monastery
|
1012 Monastery Road
|
Snowmass, Colorado 81654
970/279-4400 | EMAIL librarystben@gmail.com